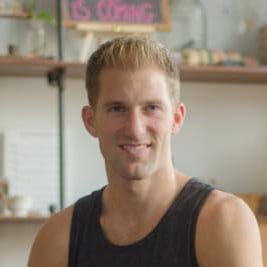 Andrew Weingart RYT-200
Andrew Christian Weingart is a certified yoga instructor and has studied yoga asana and yoga philosophy for over 1,000 hours. He came to realize his life purpose through healing his physical traumas via the physical modalities of Yoga. Andrew is committed to a deeper understanding of Yoga and seeks to bring complete balance to all aspects of his, his family, and his students life.
He discovered Yoga in May of 2014 when he "coincidentally" dropped-in to Guruji Andrey Lappa's 200hr Yoga Teacher Training. During his encounter with Andrey he reawakened to God simply through the experience of his words and teachings on that day. In this moment he realized that this was the mission puzzle piece he had been intuitively sensing since he could remember growing up as a child.
This renewed energy immediately landed Andrew on the Yoga mat as a teacher of Universal Yoga. It was only 2 years later that Andrew was called to Nepal where he spent 4 months in the Lekshey Ling Buddhist Monastery. Here he meditated for 6-8 hours per day, learning the preliminary (Ngondro) Buddhist Practices – the embodiment teachings of the Buddha.
Andrew is certified in both Universal Yoga and Kundalini Yoga, which he recently has just graduated from in May 2019. He found Kundalini Yoga exactly how he has been finding most things in his life now, by "stumbling upon it". As he continues to walk his path and stay committed to his life purpose, all things are divinely aligning. His passion for awakening of self and others continues to lead him deeper and deeper on, what he calls, "the journey of life".
A kind heart, care for others, and gentle sense of humor will support practitioners both in and out of the studio. The focus of his class offerings is to educate practitioners on the healing techniques of yoga through the balancing of mind, body, and soul. His passions include music, traveling, nature, chanting, spending time with family, conscious talks, public speaking, photography, dance, and serving others. Andrew couples his passions with his career, offering life coaching, breathwork, meditation, chanting, and yoga classes year-round.
Schedule
| | | |
| --- | --- | --- |
| MON: | 9:30AM – 10:45AM | Vinyasa360 – all lvl |