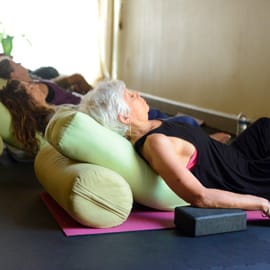 Restorative Yoga + Soundbath
Restorative yoga is both magical yet advanced. It's a simple practice of self-care that stimulates the relaxation response in the brain and body by activating the parasympathetic nervous system. From the very first Restorative Yoga pose, we learn to let go.
As a contemplative practice that uses props such as chairs, blocks, straps, sandbags, bolsters and blankets to support the body totally, we're able to release deep-seated chronic tension. This slow-paced practice works to re-educate the mind and body to release hidden tension, passively with no active stretch or even trying to do anything but simply relax.
Sounds easy enough, yet cultivating patience and perseverance to achieve stillness, and stick with it, requires us to dedicate this time for mindful healing, rest and rejuvenation. It's closer to a meditation practice than a movement practice—a way of practicing "meditation" as a somatic, embodied experience.
The subdued quality of a Restorative Yoga class often helps you draw attention inward, away from external events and the world's noise. With your awareness directed within, the practice becomes a sanctuary for the mind and spirit, from which you can take a deeper look at who you are, what you want, and how you can serve the world.
In this age of so much stress, we desperately need to find our center and reconnect with our power, freedom and sense of peace within. In this class, we discover and learn where we are holding tension, and with supported resting poses held for a few minutes each, we create the conditions to cultivate the skill of conscious relaxation, releasing unnecessary habitual tension in the body and mind.
People might think that relaxing is about letting go, but really, we are looking deeply for what's uncomfortable in order to allow more space for the full experience of who we are. You will feel an overall calming effect on the nervous system that sets a deep relaxing tone which comforts your mind and body down to the cellular level. Here we find happiness, contentment and peace.
To the inherent beauty of the restorative class, we add a delightful sound bath in final relaxation to melt the body and calm the mind.
"Between stimulus and response, there is a space and, in that space, lies our power and our freedom" –
Victor Frank