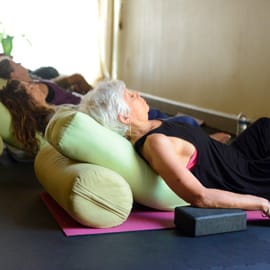 Restorative Yoga
Restorative Yoga is a form of Yoga that seeks to achieve physical, mental and emotional relaxation with the aid of props. The use of props supports the body to simultaneously stimulate and ease towards balance and deep relaxation.
Restorative Yoga stimulates the parasympathetic nervous system, which slows the heart rate, regulates the blood pressure and relaxes the body. The intention is to relax as far as possible into the postures using as little physical effort as possible. The mind focuses on the breath in order to cultivate mindfulness and release tension from the body.
Effects of a Restorative Yoga Practice
Slows down pace of life
Soothes nervous system
Encourages mindfulness
Cultivates body awareness
Deepens self-awareness and introspection
Helps you feel safe and nurtured
In this class you will be siting or laying on the floor with may props in various Restorative yoga poses. You will leave completely relaxed and renewed.