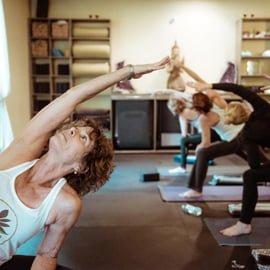 Align & Flow
is a skillful and artful flowing asana practice, which enables one to move within their body into a peaceful inner environment.  All classes are uniquely sequenced, and offer a conceptual heart theme linked with detailed alignment language, enabling one to become more grounded and connected.
MIXED LEVELS – This class is open to all levels: active beginners, continuing students as well as advanced practitioners.  Students are given variations or props as needed to allow the body to achieve an understanding of every pose.
LEVEL 2 – This is an intermediate level class, though practicing beginner students are welcome to attend at their discretion.  Inversions are generally offered in this class and students should be able to push up into urdhva dhanurasana (Wheel pose).