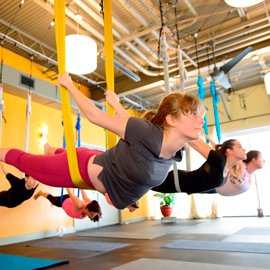 Aerial
Add a whole new dimension to your practice. In this class you will be guided through a simple Aerial Vinyasa sequence using our hammocks as a prop. This class is appropriate for all levels, whether you are new to flying yoga (or yoga in general) or a frequent flier you will get your feet off the floor and experience the many benefits of suspension, inversions and deep floating relaxation. The development of increased mind-body awareness, alignment and stability through holding challenging yoga poses longer (10-20 breaths) are emphasized in this class.
This class is NOT recommended if you have any of the following: Arthritis, Glaucoma, Hyper/hypo-tension, Heart Disease, Recent Surgery (esp. shoulder, eyes, back, hips, hands or wrist) or Vertigo (dizziness/fainting).
Due to post COVID additional sanitation precautions, students are welcome to bring their own silk or rent one for $5. For regular students we have silks available for purchase on demand.